Follow Me Back Tuesday
is another day of the week that you can gain more followers and find other great blogs to follow on a weekly basis. Follow Me Back Tuesday is hosted by
Survey Junkie
,
Little Yaya's
,
Review Retreat
and
Boobies, Babies & A Blog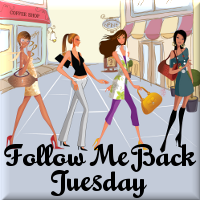 It's a great way to start off your week and get more Followers !!

How it Works:
1. Follow all 4 hostesses above, then as many other blogs as you would like (Be Sure To Comment So We Know Who/Where To Follow Back) .
2. Go to
Reveiw Retreat
and add your blog to the list (only have to add once ).
3. Grab their
button
and the link code to post on your blog.
4. After you follow a new blog make sure you leave them a comment letting them know that you are now a follower so that they can follow you back, and please follow others back if they leave you a comment that they follow you.
5. We would love for you to help spread the word by creating a Follow Me Back Tuesday Blog Post. It will certainly help spread the word faster, which will lead to more blog followers!